Want to buy a Tesla? There's an app for that. Sorry, but the old catchphrase still rings true. Apple introduced us to the world of Apps in 2009 with a marketing campaign around that slogan. The commercial also said there is an app for just about anything. Fast forward 13 years, and you can add buying a Tesla to the list.
For a company that has never spent a dime on advertising, its marketing continues to dominate. When Tesla announced that it would allow non-Teslas access to its vast Supercharger network, it also gave thousands of electric vehicle owners a reason to download the company's app. That allows Tesla access to countless warm leads. These people already have EVs and now have Tesla's logo on their phones. They will have to open the app to use the charging station, and while waiting, maybe they want to look at the other features in the app. Until recently, you could buy a hat, a shirt or a mug, but now you can buy a Tesla.
Tesla pushed out a server-side update that includes a new button that simply says Order Now, Shop for a new car. It's that easy. The Four Ps are popular marketing methods, product, price, place and promotion.
This small addition to the app hits every P. The product speaks for itself as a trailblazer in the EV sector. The price is market tested, and clearly, it's right because the vehicles are in high demand. The place is how you get your product in front of buyers, well, this app is right in the buyer's hands. Promotion is how the product is advertised. For this, all people have to do is look around at the charging station and all the Teslas there while enjoying one of the more than 35,000 Supercharger stations.
Not only is Tesla getting electric vehicle owners to consider its product, but the company also has direct access to its existing fans. Perhaps you are sitting there with your Model 3 and spot a shiny red Model Y with turbine rims. Maybe you want that model next time you are in the market. You think, I'll look it up when I get home. Now you can look it up right there on the spot. With just one tap, you're on to the model and down the rabbit hole.
The process is the same as the website with its incredibly simplified buying process. After you pick the model, you choose the exterior color and the wheels, then it's the interior color and your choice if you want Enhanced Autopilot and Full Self Driving. It's remarkably simple and oh, so easy to order, almost too easy!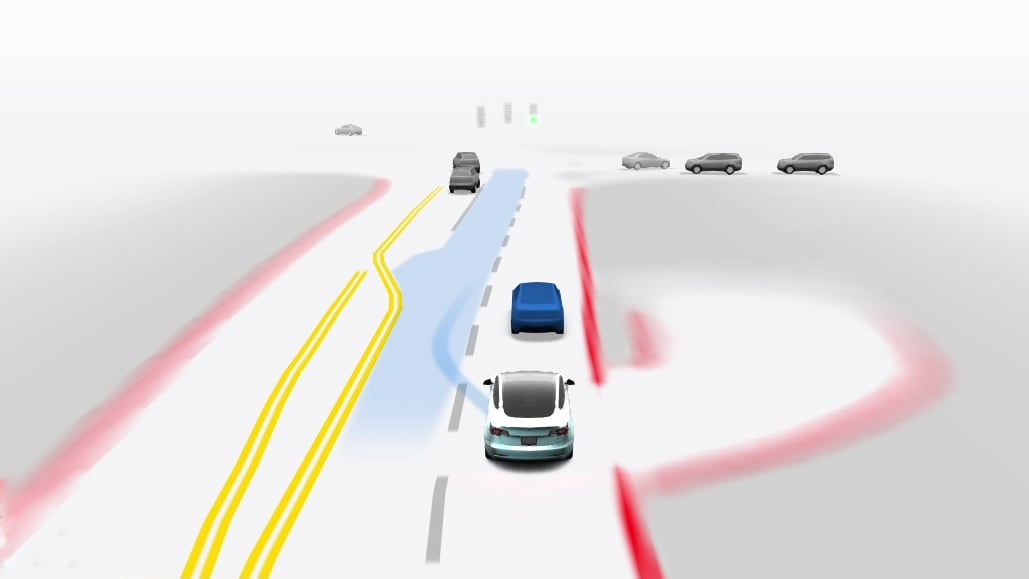 Tesla is finally expanding the FSD Beta to more testers who have been patiently waiting and maintaining high Safety Scores.
Elon Musk announced the expansion on Twitter and said Tesla would expand the beta to 160,000 testers in the United States and Canada, up from 100,000.
He has said the program could only improve with more real-world driving data input. The real-world experience could have been drivers achieving nearly perfect Safety Scores.
Lower Safety Score
Tesla has now lowered the Safety Score required to get into the FSD Beta program. Anyone in the U.S. or Canada or who has driven more than 100 miles with a Safety Score of 80 is now eligible to receive the beta.
Early this morning owners began waking up to a surprise update from Tesla. Tesla started sending out the latest FSD Beta, 10.69.2.2 (update 2022.20.17) to new testers overnight.
Only for those on 2022.20 or earlier?
It appears that those receiving the beta have been on a version of 2022.20 or earlier. Owners on update 2022.24 or 2022.28 haven't been offered the beta yet.
It's possible Tesla wants to prevent rolling owners backward in terms of updates, causing some features to be removed. Potentially features that the owners may have just started getting used to such as blind spot camera placement, alternate routes, or other features included in update 2022.24 or 2022.28.
Elon has already commented on the next version of FSD Beta, revealing that it will be beta 10.69.3 and it's expected to be released shortly after AI Day Part II. This version could be based on update 2022.24 or 2022.28 and include testers currently on those updates.
Last updated: Sep 20, 8:30 pm
For those unfamiliar, just because someone purchases FSD doesn't mean they have access to the FSD Beta. No, the driver is graded by Tesla and given a score. That score has to be above a certain point to be enrolled in the FSD Beta. Tesla's CEO has said that more than 100 million FSD miles should be logged by the end of 2022. In July, that number stood at 35 million miles. Of course, to triple that number, more testers are needed.
In August, Tesla's CEO was confident FSD had a breakthrough and told shareholders the next update would be so great that he had to break the order of numbers, "… we've made some pretty significant architectural improvements. So, it is really more than 10.12 to 10.13 release. It might, I don't want to speak too soon, but it might qualify for 10.69. It has to earn that, obviously!"
While the price of FSD continues to go up, Musk says this about making the roads safer, "We're solving a very important part of AI and one that can ultimately save millions of lives. And prevent 10 of millions of serious injuries by driving just an order of magnitude safer than people."
Autonomous vehicles have been a goal for years. Musk publicly discussed it in 2017 and believed the feat could be done in two years. However, a few months ago, he admitted it was a much more significant challenge than he predicted. "The sheer amount of work required to do this boggles the mind," he told the Tesla Owners Club of Silicon Valley. "I've seen a lot of tough technology problems, and solving real-world AI such that a car can drive itself is one of the hardest problems I've ever seen. It is way harder than I originally thought, by far."
Were you newly invited to FSD Beta if you had a 80+ score?

— Not a Tesla App (@NotATeslaApp) September 20, 2022
Since 10.69 was released on August 20, updates have included several improvements to FSD. The most recent update can be found here. Now with 60% more users, there will be more updates to address what Teslas are experiencing. Plus, there is already FSD Beta 10.69.3 expected just after AI Day on September 30.
Have you just received Tesla's FSD Beta for the first time? Let us know in our forum.
With every major Tesla update there are often smaller changes or features that aren't mentioned in the release notes.
The main attractions of Tesla update 2022.28 are the ability to minimize a full-screen video and Alternate Routes, however, several undocumented features also made it into 2022.28.
Dark Mode Colors
The dark mode color scheme has been adjusted so that various screens now use lighter gray tones. For example, prior to this update the car visualization area and apps like the media player both used the same dark gray color for the background.
However, with this update, Tesla has changed the background color of apps from a dark gray to a much lighter gray so that they stand out from the vehicle visualizations.
Changes to the Theater Status Bar
With this update Tesla introduces the ability to minimize Tesla Theater, allowing you to access vehicle menus and settings without leaving your streaming video.
Previously while streaming video in full screen, there was a quick access bar at the top of the video that could be revealed by tapping near the top of the screen. This status bar lets you access some vehicle controls without leaving the video. Video controls such as cabin temperature, screen brightness and volume could easily be changed.
Since you can now minimize a full-screen video without leaving the video app, Tesla has mostly removed the options that once appeared at the top of a video.
When tapping near the top of the screen, the number of options has been reduced to minimize theater, a back button and the state of charge of your battery.
A gray line has also been added to the top of the screen to let you know that you can now swipe down on the full-screen video to access other car functions.
Phone Icon
When you're on a call in the vehicle, the green phone icon will now always remain visible in the status bar, regardless if the phone card is hidden or not. The icon in the status bar has also changed shape slightly, going from a pill shape to a square.
LFP Battery Calibration
Vehicles equipped with an LFP battery will now display 'Calibrating' on the vehicle's screen when the vehicle is nearing a full charge.
New Radio Icon
The radio icon has also been updated to be more ambiguous with this update. The traditional analog radio markers have been flipped so that they now run vertically instead of horizontally.
The letters 'FM' have also been replaced with a generic circular icon so that it's more inclusive of other supported bands such as DAB, which is supported in many parts of the world.
HomeLink Buttons
The HomeLink button text has once again been changed. Tesla used to display the name of the garage door or gate inside of the button, with the words 'Activate' or 'Cancel' underneath the button. The problem with this approach was that the text underneath the button is far too small, and it wasn't obvious how to cancel a door from auto-opening.
However, recently Tesla swapped the location of the name and the action text so that 'Activate' would appear inside of the button and the garage door name underneath the button.
This could lead to some confusion for those with multiple garage doors, as you would be presented with multiple buttons that would be labeled 'Activate,' with the only differentiating feature being the small text underneath the button.
With update 2022.28 Tesla has taken a hybrid approach. When pulling up to your garage door, the buttons will once again be labeled with the name you've given your garage doors (top photo).
However, if you have auto-open or auto-close enabled, then you will see the 'Cancel' text inside of the button for the specific door that will be opened or closed. The rest of the buttons will still show their given labels (bottom photo).
Of the several iterations Tesla has gone through, this approach appears to make the most sense. It's now more obvious how to cancel a garage door or gate from auto-opening and you'll still see the name of the garage doors in the predominate text most of the time.
Safety Menu Reorganized
The vehicle options under Controls > Safety have been slightly rearranged. Sentry Mode, PIN to Drive and Glovebox PIN have moved up. This allows you to quickly enable or disable them without needing to scroll.
Have you noticed any other changes in 2022.28? Let us know.